SHERIFF'S OFFICE CELEBRATES TWO RETIREES
The Office of the Sheriff recently celebrated two long serving members for their retirements. Deputy Rickey Davis and Sergeant Darryl King both retired with 22 years of dedicated law enforcement service. We wish both of these gentlemen the very best and thank them for their service!

2022 FALL CITIZENS ACADEMY GRADUATES
The Office of the Sheriff wants to congratulate the recent graduates of the 2022 Fall Citizens Academy. Each of these individuals participated in a 12 week course that taught the ins and outs of how the Sheriff's Office functions. It is a perfect course for any resident who wants to know more about their local law enforcement agency and to get involved in the community. Congratulations! (L-R) Karen Dillon, Paul Pando, Sheriff Overton, Gareth Stephenson, David Stump, Melissa Stump, Taylor Richardson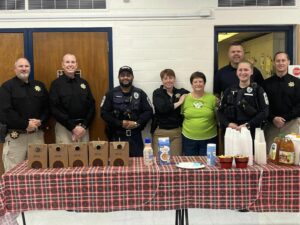 LAW ENFORCEMENT SERVE PANCAKES
Rocky Mount Police Department and the Franklin County Sheriff's Office assist as "servers" at the Rocky Mount Elementary School Pancake Breakfast on a Saturday morning in December. Both agencies pitched in to assist the school in this fundraising event.