Community News: Franklin County Sheriff's Office
The Franklin County Sheriff's Office graduated 6 deputies from the Cardinal Criminal Justice Academy in Salem, VA. Join us in congratulating them on this huge achievement!
Graduates (L-R): Deputy Hunter Hodges (Jail) (Class Chaplain), Deputy Sam Messer (Patrol) (Class President), Deputy Katelyn Ferguson (Jail), Sheriff Overton, Deputy Zion Wade (Patrol), Deputy Johana Grantham (Patrol), Deputy Beau Custer (Patrol) and Deputy Dylan Shipman (Patrol)
MOTORCYCLES AND GRASS CLIPPINGS IN ROADWAY
The Office of the Sheriff reminds all motorist to don't blow grass clippings on the roadways when you mow. This is very dangerous to motorcycle riders. The Code of Virginia 18.2-324,  prohibits anyone from throwing or depositing any substance onto a highway that creates a hazard to the traveling public.
We celebrated Flag Day on June 14, 2023. This day also coexists with the date honored as the birthday of the US Army.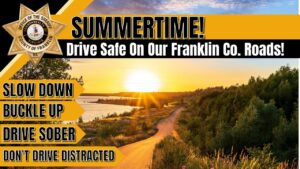 SUMMERTIME IS HERE, MORE TRAFFIC IN OUR COUNTY
Reminding all motorists, with our lakes and other great tourist attractions in Franklin County, please drive safe on our roads. This graphic is a great reminder:
Outside fire safety this time of year is critical. Look at these helpful tips to prevent brush fires
BICYCLE RODEO HELD AT WAIDS PARK
Saturday, June 17th, State Farm and the Franklin County Sheriff's Office held a Bike Rodeo for kids.
The rodeo was centered around bike safety, wearing protective gear and offered a technical course to enhance bicycle control.
Special thanks to our Franklin County Parks and Recreation folks who assisted in the event in various ways. They also had set up a screen and held a movie night at the end of the rodeo.
Heatstroke in children and pets can happen quickly, as their bodies are smaller, heat up faster, and are therefore more prone to the effects of extreme temperatures. Heatstroke fatalities can happen in vehicles parked in shaded areas and in temperatures as low as 57 degrees, even with the windows cracked! Make a habit of looking in the back seat areas before you leave your vehicle.
The onset of heat illnesses can develop rapidly and is not always obvious before it becomes life-threatening. During high heat, heat illness can develop even faster. Prolonged sweating can deplete the body of water and salt, causing dehydration. As dehydration gets worse, the body can no longer keep its temperature within a normal range, sweating stops and severe heat illness occurs. In a heat stroke, the person's body temperature rises rapidly and can damage the brain, muscles and vital organs. STAY HYDRATED FRIENDS!