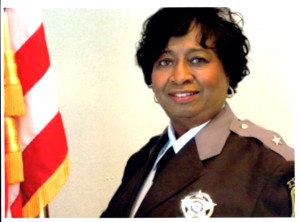 On December 15, 2005, The Honorable Vanessa Reese Crawford was sworn in as the first female Sheriff for the City of Petersburg. Sheriff Crawford was born and raised in the city of Petersburg. She was re-elected on November 3, 2009 and started her 2nd term as Sheriff, January 1, 2010. She ran unopposed for the office of Sheriff in 2013 and began her 3rd term January, 2014.
As the Sheriff, a mother, aunt, cousin, friend and business woman, Sheriff Crawford has excelled beyond many expectations. She entered the demanding world of criminal justice and law enforcement where she worked her way to the top from a counselor within the Department of Corrections to where she was the first female Superintendent to run an all male correctional facility. She retired after 28½ years of service with the Department of Corrections.
Since her tenure in office as Sheriff, she has acquired certification as a National Certified Jail Manager, through the Jail Manager Certification Commission by authority of the American Jail Association.
Sheriff Crawford is a member of the Good Shepherd Baptist Church in Petersburg, where she serves on the Trustee Board. She is the President of the Petersburg High School Boosters Club, Past President of the Petersburg Kiwanis Luncheon Club and former Vice Chair of the Petersburg School Board. In 2010, she was elected, unanimously, by all of the Virginia Sheriff's to serve as the President of the Virginia Sheriff's Institute. In 2012, she was unanimously elected to serve on the Board of Directors of the Virginia Sheriff's Association. She is also a member of the Petersburg Chapter #33, Order of the Eastern Stars and a member of the Women's Committee of the Petersburg Symphony Orchestra, and also organized her neighborhood watch association. She has also been re-elected for the second time as Chairman of the Petersburg-Dinwiddie Crime Solvers and to the Petersburg Kiwanis luncheon club Foundation Board of Directors.
Sheriff Crawford was recognized by the 2012 Virginia General Assembly who prepared 2 resolutions in her honor, for her dedication and community service, which were, House Joint Bill 332 and Senate Joint Bill 182 and was named as one of the Allen & Allen Law Firm 2012 Hometown Heroes. Most recently, Governor Terry McAuliffe appointed Sheriff Crawford to the Criminal Justice Services Board until 2017.
Sheriff Crawford is married to Leon, a retired military officer and they have 5 children, Latricia, Roderick, Cornell, II, Leon and Courtney and 13 Grandchildren and 2great-grandchildren. Her mother is retired educator Esther T. Reese (deceased in 2000).
She believes the scripture "I can do all things through Christ who strengthens me"