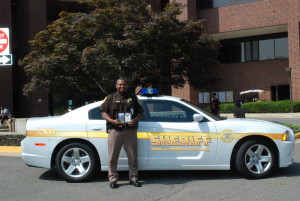 Deputy Greg Johnson of Prince William County Sheriff's Office was recognized for his continuous support and coaching of Special Olympians in June of 2014.
A lifetime resident of Virginia, Deputy Johnson's dedication to Special Olympians was sparked by his relationship with his brother, whom has special needs. Deputy Johnson's commitment to supporting his brother as a child developed into a lifelong passion for helping others. Over the last 7 years, he routinely volunteered his time assisting with Special Olympic events. When asked why he volunteers Deputy Johnson stated, "I enjoy donating my time to the Special Olympics because it gives me the opportunity to meet new athletes, make friends, and give back to the community."
Deputy Johnson was asked to coach at the Richmond Special Olympics in 2013, because of his inspirational attitude. There he met Erin Goad, an autistic and speech impaired, Special Olympian swimmer. He was pleased to be selected as her coach. He instructed Goad using encouragement and patience. His positive coaching style gave Erin the incentive to decrease her lap time throughout the event and stay focused. His support paid off as Erin took the lead and won a gold medal for the One Hundred Meter heat. In 2014, when he returned to volunteer, at the Richmond Special Olympics, Deputy Johnson was paired with Erin Goad for a second time. Once again, his upbeat personality and coaching skills inspired Erin to accomplish her objective of winning back-to-back gold medals.
Erin and her family were very impressed with Deputy Johnson's commitment and dedication to Special Olympians. Erin's mother, Mrs. Goad, stated, "Greg is a super nice guy and a special person and I always hope to see him at the Special Olympics to support Erin and all Special Olympic athletes." According to her, when Deputy Johnson assists with Special Olympics he takes the time to individually care for each athlete, which shows his kindness. In addition, Mrs. Goad stated, he is "a blessing to my family".
As a token of Erin's appreciation for his selfless dedication to her and her family, Erin presented Deputy Johnson with her 2014 winning gold medal. Deputy Johnson accepted the award stating, "I only played a minor role in Erin's success; it was really her personal perseverance and commitment that lead to her achievement. I am humbled by this gift."
When told of the acknowledgement, Lieutenant Tony Sindlinger of the Prince William County Sheriff's Office was not surprised. He stated, "It takes a special person with genuine qualities in order to connect emotionally with a person of special needs, and Deputy Johnson has this special quality." Furthermore, Lieutenant Sindlinger stated, "Deputy Johnson is a person that gives respect to everyone he comes in contact with, no matter what their strengths and weaknesses may be. I am truly impressed with all he does for Prince William County Sheriff's Office and I know that our community is impressed with him too."
In the future, Deputy Johnson plans to remain involved with Special Olympics and hopes to continue to build understanding, acceptance, and inclusion for people with intellectual disabilities throughout Virginia.