Sheriff Overton has been busy presenting well-deserved awards to Franklin County Sheriff's Office deputies, staff, personnel, and volunteers.  Awards include:
E911 COMMUNICATIONS SUPERVISOR ACKNOWLEDGED FOR EXCELLENCE
Supervisor Jennifer Gammons was recently presented two "Shining Star" awards for her actions and help during a couple of highly extensive and serious 911 calls.
While the 911 Center was handling an intense vehicle pursuit call, Supervisor Gammons was able to effectively multitask her leadership skills between that call and another, which included guiding a separate caller through CPR instructions.
Kudos to E911 Supervisor Gammons!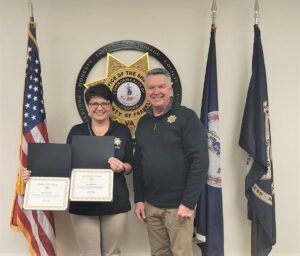 SHINING STAR AWARD GIVEN
Recently, E911 Communications Officer Jenny Creighton received a call involving an assault, a house fire and a reckless driver complaint that was all related to the original call. She dealt with the elements of this one call, while staying in contact with Fire & Rescue, Virginia State Police, Roanoke County PD and our deputies all surrounding this one call for help.
Kudos to Jen Creighton for her calm and professional demeanor in such a high stress time!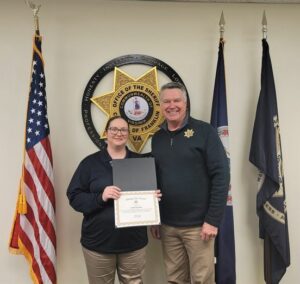 SPECIAL COUPLE RECOGNIZED
Roger and Susan Hilfer were named the WoodmenLife Award winners for January 2023. Our local WoodmenLife Company acknowledges 1st responders in our county periodically. The Hilfer's have been long standing members of our volunteer COPS (Citizens On Patrol) program for many years. Recently, they have taken on the management and implementation of our Project Lifesaver Program.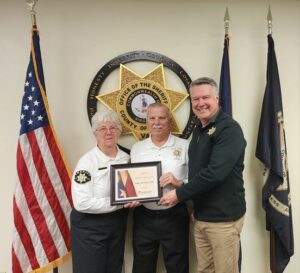 K9 DEPUTY RECEIVES SALUTE
This week, Sheriff Overton was happy to present Deputy Chad Huston with a Shining Star Award! Deputy Huston is one of our two bloodhound handlers and is called upon at various times to assist with searches for missing persons. K9 Hunter and Deputy Huston have assisted with incidents both inside Franklin County as well as many other neighboring jurisdictions.
Congratulations to Deputy Huston and K9 Hunter. We thank you for your service!