Due to current dry conditions, a county wide burn ban was put in place in early November.  The Office of the Sheriff encouraged residents to cease outdoor burning until the ban is lifted.
The Office of the Sheriff thanks Amanda Rucker and staff of our local McDonald's for their donation to Operation Christmas Joy 2023. Their gifting of food coupons will be distributed to the families chosen by the Franklin County Public School System as a part of our annual Christmas charity.  Pictured are Amanda Rucker, Owner/Operator and Deputy H. L. Nolen.
The Franklin County Sheriff's Office honored our veterans on their special day. A ceremony was held at the Veteran's Memorial in Rocky Mount.  We salute all American veterans for their patriotism, love of country, and willingness to serve and sacrifice for the common good.
On Saturday, October 28th, the Office of the Sheriff participated in the Franklin County Family Resource Center Annual Awareness Event: Promoting Safe Families. So many friends came out to take part in the costume contests, bouncy house, ice cream, food, candy, and good times! Pictured is Franklin County resident Caroline Taylor with her display.  Thank you to the Family Resource Center for all that you do for our community!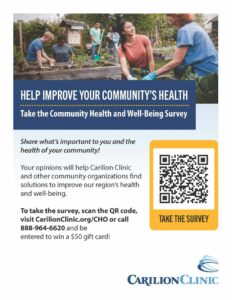 COMMUNITY HEALTH ASSESSMENT SURVEY
Every three years, Franklin County's Community Health Assessment Team (CHAT) conducts a "Community Health Assessment Survey" to evaluate the needs to improve the health of the communities that we serve. This includes access to care, quality of care, education, employment, income, family and social support, community safety, environmental quality, and health behaviors.
The Office of the Sheriff wants to encourage all county residents to complete this Community Health Assessment to tell us what your community needs are. This can be done online by visiting www.carilionclinic.org/community-health-outreach, calling 888-964-6620 or scanning the QR Code!
HALLOWEEN 2023 ACTIVITIES
There were many Halloween activities throughout our county the last of October. FCSO had deputies on hand at the Rocky Mount Fire/Police Halloween Bash. Pictured are Deputy Dylan Shipman, Investigator Steve McFarling and Deputy Tristan Adams. Thank you to all who came out!
RIDGEVIEW BANK TREAT DONATION
Recently, Tyler Lee with Ridgeview Bank stopped by the Office to bring delicious donuts to the members! Thank you for the generosity and sweet treats. Deputy Chad Huston, Deputy William Hoyt, Sgt. Jessie Scalf, Tyler Lee, Captain Duane Amos.
EMPIRE BAKERY DONATES SWEET TREATS
The Office of the Sheriff would like to thank HR Manager Jackie Weddle with Empire Bakery for dropping us off something sweet to our members recently. Pictured are Lt. Jeff McCarty, Jackie Weddle and Sgt. Paul Crandall.